Three Bell Client Spotlight Socks With Benefits: Andrew Ferenci, Comrad Socks Founder & CEO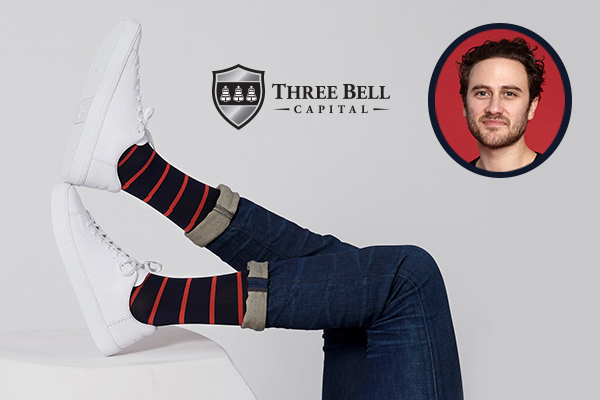 FIRST WORLD SOCK PROBLEMS
How many times have you opened your sock drawer in the morning and rummaged around for a favorite pair of socks, passing over the less desirable pairs? Conversely, how many of you think your socks just plain suck and don't even own a single pair you really like?
Personally, mine always slumped down after five minutes, and then flew at half-mast the remainder of the day. I would like to think this is due to my well-developed, muscular calves, but in reality, it's because my socks were poorly designed and made from shoddy materials.
Enter Comrad.
Founder and CEO, Andrew Ferenci, is aiming to change that experience entirely and is making socks that not only make your feet feel a whole lot better, but also have the potential to prevent blood clots that can form from sitting or standing in one place for long periods of time. Hmmmm, how many of us can relate to that?
ANDREW'S ENTREPRENEURIAL BACKGROUND
Andrew wasn't always a burgeoning textile baron. Quite the opposite, he previously founded Spinback, a social commerce and analytics company that was later sold to Buddy Media, which was in turn acquired by Salesforce. Andrew was the definition of a high-tech entrepreneur focused on engineering B2B software solutions for the enterprise market.
Coming out of the Spinback/Buddy Media exit, Andrew wasn't long for Salesforce, and like most successful entrepreneurs, he was soon ready to start and build another company. But this time, he was looking to make a physical product that customers would actually use everyday. In a way, a return to the pre-internet days when entrepreneurs operated in the physical universe and manufactured widgets directly for consumers.
After exploring a few different ideas, Andrew started zeroing in on compression socks as a market opportunity. Like many of us, Andrew had spent countless hours in cramped cubicles and long airplane flights. His legs were often sore and upon further research, he learned that he was at risk of developing blood clots in his legs from lack of adequate movement and blood circulation.
Andrew began wearing compression socks that are ergonomically designed to promote blood flow, prevent blood from pooling in your legs, and stimulate lymphatic fluid circulation throughout the body. He immediately felt an enormous difference.
A CHANGE IN STYLE AND YOUR HEALTH
Comrad socks are made with compression technology, which improve blood flow to and from the feet increasing circulation and reducing fatigue. They weave different thread patterns and materials up and down the length of the sock, which create compression zones at medically proven places and aid the flow of blood to the feet and back up the leg.
Originally designed for patients with diagnosed inhibited circulatory systems, compression socks can also be worn by anyone. They make a HUGE difference in how your feet feel at the end of the day, especially if you spend significant time seated sedentary in front of a computer at work.
However, the problem Andrew identified and Comrad has now corrected, is that compression socks are ugly. Really ugly. They traditionally come in white, nude and black, none of which really have any visual appeal, flare or style. They look like they were made for medical purposes, so they don't appeal to a broader audience, despite the fact that their therapeutic characteristics are universally beneficial.
Comrad combines all of the medical benefits of compression technology (increased blood flow, reduced muscle fatigue, and socks that don't fall down during the day), and marries that with fashion forward designs people actually want to wear.
Andrew sent me a pair to check out and, after wearing them for just one day, I threw out my entire sock drawer, including my "designer socks", and bought 10 more pairs of Comrads. Now they are all I wear, and the entire Three Bell team is equally hooked.
COMRAD IS KILLING IT
The company has been hugely successful since it's launch in November 2017. Comrad is now shipping an average of 6,000 pairs of socks per month and is on track to book $1.5M in revenue its first year, 1,400% top line revenue growth from months 2-7, and 6% eCommerce conversion rate. To quote Sundown from Top Gun, "It doesn't get to look any better than that!"
Thus far, Andrew has bootstrapped the company with his own money, and only taken in a very small amount of capital from a few very lucky friends and family. As the company continues to ramp sales and scale production, they will begin looking for an institutional round of capital from top tier investors in Q1 of 2019.
TRY COMRAD FOR YOURSELF
How can you lay your hands (or feet, to be more precise) on these badass foot-massaging super socks? Glad you asked, cause we've got ya covered. Andrew has created a special promo code "3BELL", just for us. Since he knows as well as we do that good things come in threes, for the next month the "3BELL" promo code will get you a free pair of socks with every two pairs purchased at regular price.
Just go to www.comradsocks.com, enter your 3BELL promo code, pick out your favorite designs, and get ready to feel the love. Just don't be surprised when, like me, you find yourself throwing out the rest of your sock collection and buying more Comrads.
LEARN MORE ABOUT ANDREW
Add Compression Socks to Your Long-Haul Travel Routine
The 10 Best Socks to Wear While You Travel, Run, and Rest
These stylish compressions socks are perfect for sitting at a desk all day, traveling, or working out
Share post: