Three Bell Client Spotlight: Live to Dye Another Day | Carl Sandler, Founder & CEO, True Sons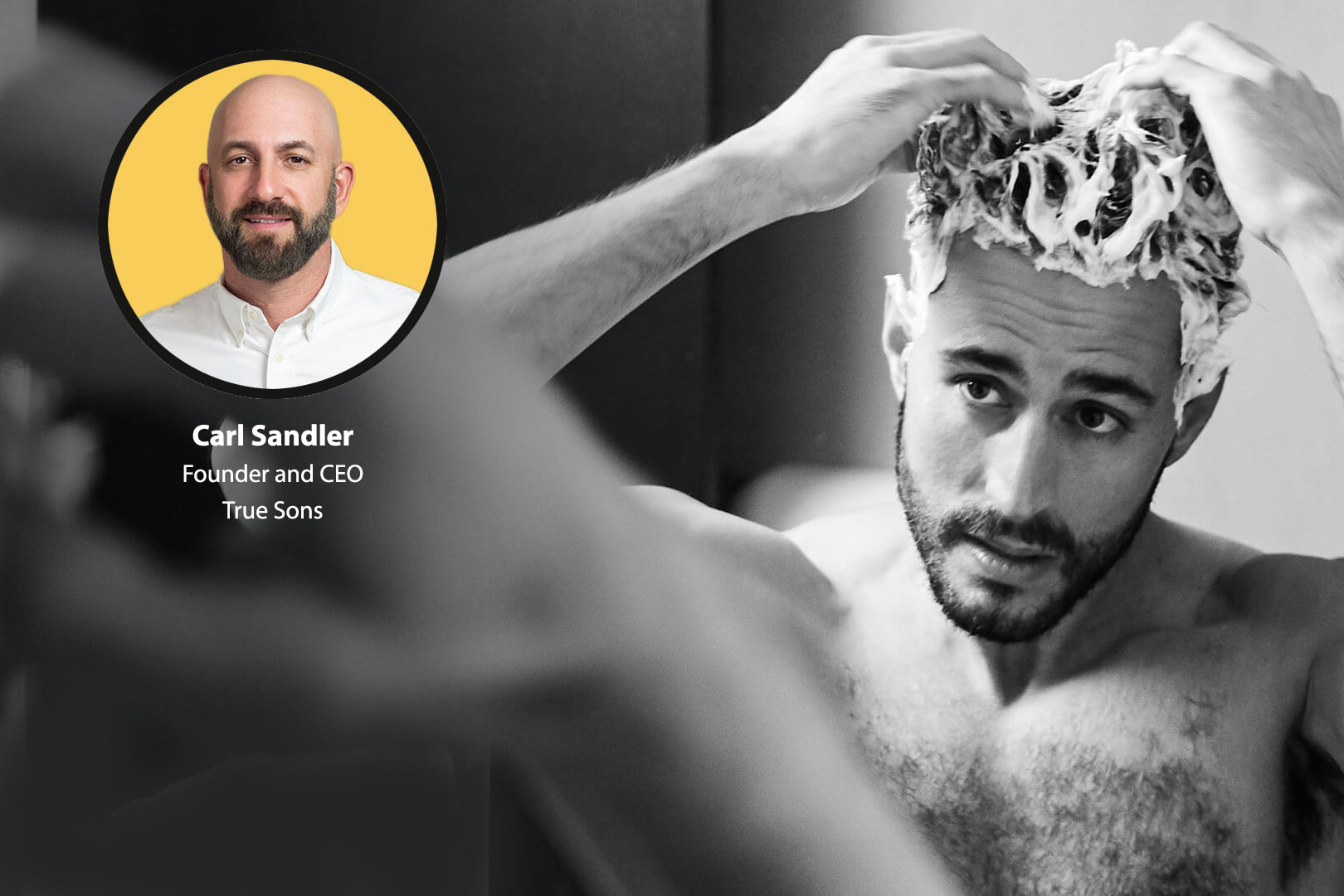 INTRODUCTION
Here's a universal question to the men and women reading this spotlight: How many times have you been out and about and seen a guy with the absolute worst dye job ever?
The bad dye jobs usually take one of two equally embarrassing forms: either the guy looks like he just dipped his whole head in an Exxon Valdez-style oil slick, or, he previously dipped his head in said oil slick, and his white hair has grown out an inch or so, making him looking like some kind of sad, reverse skunk.
Neither look is good. But sadly, men have had no good options for dyeing and maintaining a natural look; it's either cheap, imprecise, drugstore box dyes, or expensive salons that are equally embarrassing for guys.
Enter True Sons Founder and CEO, Carl Sandler. When Carl started going grey, he turned to drugstore box dyes and was shocked at the poor experience and fake-looking results. His first attempt left him looking like Tevya from Fiddler on the Roof. Not cute.
He shared his frustration with friends and colleagues, and realized that many other men shared his pain. Everyone seemed to beg him for something better. Carl then spent three years developing a superior solution and a modern brand.
CARL'S ENTREPRENEURIAL BACKGROUND
Carl is a serial entrepreneur with over 20 years of experience managing and growing biotech, e-commerce and subscription-based businesses.
Carl is home-grown here in the San Francisco Bay Area, graduating from Stanford University in 1994 when the Internet economy was just emerging. His first position was as an associate producer at Robert De Niro's Tribeca Interactive, where he worked on the development of an interactive multi-media CD-ROM (remember those?) game with Aerosmith called "The Nine."
Most recently, Carl was the Co-Founder and CEO of Enochian BioPharma, a cellular therapy start-up that was acquired by Dandrit in 2018 for over $100M. He currently serves on the Board of Directors of Enochian BioSciences (NASDAQ: ENOB).
Prior to Enochian, Carl was the Founder and CEO of Kleptomaniac.com, an early e-commerce platform and website that he sold to Planet Out Partners in 1999 for over $5M. Along the way, he has launched and grown several successful consumer-facing brands while CEO of DH Services, LLC, a privately held mobile development company.
WHAT MAKES TRUE SONS DYE SO DIFFERENT?
Men and women go grey at equal rates but fewer than 8% of men dye today, compared to over 80% of women. That is a massive gap that Carl hopes to close.
Why? Because when men want to get rid of their grey hair / beards there are no good options. Cheap drugstore dyes look fake and are cumbersome to use, requiring a PhD in mixology to get the proportions and timing correct. Salons are expensive and, often times for men, embarrassing.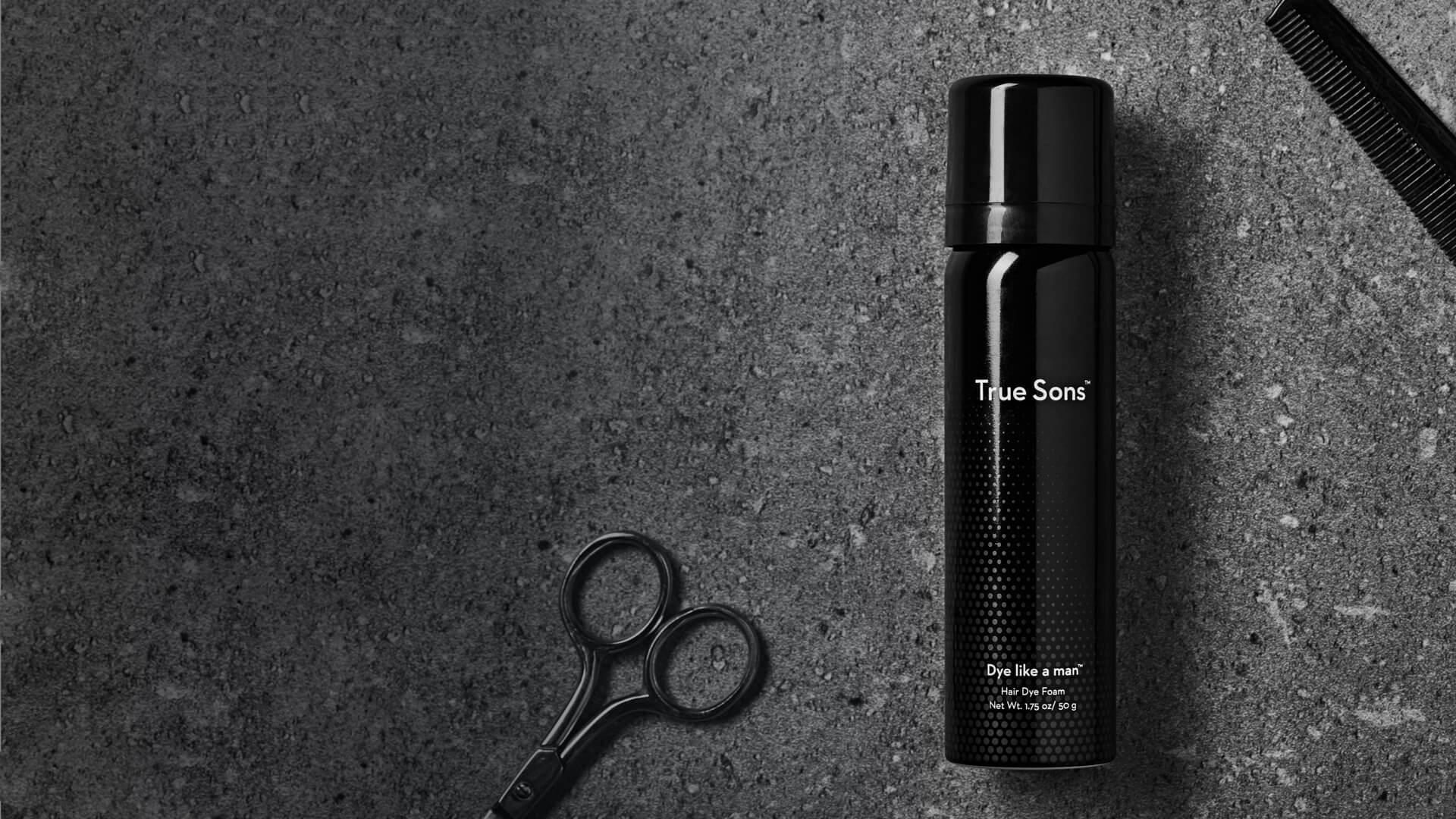 In response, Carl spent over three years working to perfect the True Sons product: an incredibly simple and effective men's beard and hair dye that comes pre-mixed in a multi-use can and is applied as a foam (like hair mousse), with natural-looking results in minutes.
Similar to razors with Dollar Shave Club, customers subscribe to True Sons and receive monthly, quarterly, and soon single bottle shipments. True Sons aims to turn dyeing from a 'dirty little secret' into a normal part of the modern man's grooming regimen.
COMPANY PROGRESS TO DATE
True Sons raised approximately $1M in seed capital from angel investors / founders and is currently looking to raise a $2M convertible debt round from strategic investors.
They successfully launched their disruptive dye brand in the summer of 2018, and since then have shipped thousands of bottles. They currently offer 7 custom, hand-crafted dye shades that work with each man's natural hair shades to deliver authentic results.
Their launch was punctuated by a provocative launch video that generated over a million views and thousands of customers. They have since been featured in multiple publications including GQ, AdAge, Forbes, and Valet Magazine.
They are now focused on expanding their marketing channels to include Amazon, cable, radio, Facebook, Instagram and Reddit, as well as forming strategic partnerships, and ultimately increasing the number of products offered.
HOW CAN YOU TRY TRUE SONS?
Dyeing to give True Sons a try for yourself?

Go to any one of the following and enter promo code THREEBELL at checkout, to receive 20% off your first order.

https://www.facebook.com/TrueSonsGrooming/
Interested in potentially investing in True Sons' current convertible debt round? Carl can be reached at carl at truesons dot com.
Share post: